In an age where security is imparted utmost importance, the traditional lock and key systems have also evolved to comply with the modern requirements. While the conventional variants still exist, the prevalence of sophisticated versions, including electronic locks, high-security options, among others, has managed to transform our security infrastructure for the better. To install, repair, or maintain components of such complexity, you need experts who've got in-depth knowledge on the latest advancements in the industry. That's where we, at Cincinnati Central Locksmith, can help you.
We strive to stay ahead of the innovation curve and redefine the boundaries of excellence. From providing clients in Cincinnati, OH area with advanced locking options to catering to other basic needs such as key cutting, lock repairs, maintenance work, we operate an all-inclusive service. Our solutions extend to clients from automotive, residential and commercial sector, with specialists designated to cater to specific domains. Our relentless pursuit for excellence and limitless passion for the profession has enabled us to grow into one of the leading locksmith firms in the region.
We provide:
Automotive locksmith services:
Facing a problem with your car's ignition? Do you require a new transponder key? We've got a team of seasoned auto locksmiths who can cater to your varied requirements with deftness. Trained to handle a wide range of car locks, advanced methods of key cutting, door unlocking and more, there's no job that's too challenging for our technicians. Some of our services include:
Transponder key programming
Trunk unlock
Car lockout solutions
Ignition repairs
Key fob replacement
Residential locksmith services: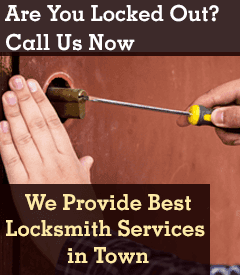 Homes have special locksmithing needs – needs that could only be fulfilled by a locksmith who's trained to deal with such concerns. Our residential locksmiths provide unmatched service. Be it simple key cutting or home security audits, they carry out every job with perfection and in the shortest turnaround time. Some of our top services include:
New lock installation
Lock repairs/rekeying
Eviction locksmith service
All types of keys made
Home security advice
Commercial locksmith services:
With businesses focusing on bolstering their security level, the insight of our commercial locksmiths proves to be valuable. With extensive experience and knowledge of the latest advancements in the industry, we know what it takes to secure your premises from all quarters. Apart from this, we also provide other standardized locksmith services, such as:
Safe installation/unlock
High-security lock installation
Emergency exit lock set up
Overnight lock change
Master and sub-master key system
Emergency locksmith services:
When emergency strikes, they do so without warning. You might be caught completely off-guard and end up taking drastic measures. Before you do that, ring up our helpline for assistance! We're open 24/7 and run emergency response operations. Be it a car lockout or an urgent need for repairs, we can deal with your request in a prompt manner. Here's an overview of our services:
Car/home/office lockout
Trunk unlocking
Emergency key making
Emergency eviction service
Post burglary damage repairs
We provide high-end products and services
At Cincinnati Central Locksmith, we've always laid an emphasis on quality. To be the best, we need to deliver the best of products and services. To fulfill our aim, we've managed to refine our techniques, improve continuously and upgrade our infrastructure. This includes setting up periodic training sessions for our technicians, upgrading our knowledge base, updating the equipment we use, and expansion of our network. We also source all our parts, locks, key blanks and other components from top manufacturers in the industry to ensure the finest quality. Any product you acquire from us will be of top grade and any service you avail from us will be carried out with the best workmanship.
Anytime, anywhere service
What good is a locksmith that isn't available when a customer is in dire need of help? When an emergency lockout grips your business facility or your house is burgled, there's no room for delays; help must be provided right away. And that's what we strive to achieve. Time or distance constraints have never held us back, and we've challenged ourselves to go that extra mile and provide services to customers as and when they're required 24/7. Thanks to our mobile modus operandi, we're able to reach any location in Cincinnati, OH area in minimal time. No matter where you are, our mobile vans won't take more than 15-20 minutes to reach your location.
Cincinnati Central Locksmith commenced operations in Cincinnati, OH area with an aim to render unparalleled lock & key services. An ambition that began on a small scale, has now grown in magnitude and reach, thanks to the dedication and commitment we've shown. Today, we've managed to make our way to the top and emerge as the community's most sought-after locksmith. Driven by a thirst for excellence, a passion for innovation, and the desire to make a difference, we sought to bring about a change when there was none. We provided quality, when all that existed was sub-par services. We brought in mobile service, when most locksmiths preferred working from stationary workshops. We extended our hours of operation and worked round-the-clock, when others stuck to standard hours. Through our relentless efforts, and constant endeavors, we've managed to carve a unique identity for ourselves.
Why choose us?
Trained locksmiths: We don't just hire anyone; we hire only the best. From education, to experience, we ensure that only the finest make the cut. Once they've joined our crew, they undergo extensive training to comply with our high standards.

We work 24/7: You might need a new key or a lock repair, at just about any time. To provide uninterrupted services, we have teams of technicians working in shifts round-the-clock. Any time you call us, we'll always be available to provide assistance.

Extensive serviceability: We've established bases across Cincinnati, OH area that enables us to cater services to every nook and corner of the region. No matter where you call us from, be it the heart of the city or a remote location, we can reach you.

Doorstep solutions: Customer convenience matters to us! That's why, we run mobile operations that allow us to deliver doorstep solutions. Our vans carry the essential paraphernalia enabling our technicians to cut keys, fix locks, rekey locks and more on-the-spot.

Budget-friendly: All our services are provided at the best market rates and are priced reasonably. Plus, we do not levy extra charges for emergency or 24-hour services. We believe in offering transparent, upfront and affordable prices that fit your budget.
To know more about what we offer, you can always reach out to us!
We Provide Unlock Service in the following zip codes.
45201, 45202, 45203, 45204, 45205, 45206, 45207, 45208, 45209, 45211, 45212, 45213, 45214, 45215, 45216, 45217, 45218, 45219, 45220, 45221, 45222, 45223, 45224, 45225, 45226, 45227, 45228, 45229, 45230, 45231, 45232, 45233, 45234, 45235, 45236, 45237, 45238, 45239, 45240, 45241, 45242, 45243, 45244, 45245, 45246, 45247, 45248, 45249, 45250, 45251, 45252, 45253, 45254, 45255, 45258, 45262, 45263, 45264, 45267, 45268, 45269, 45270, 45271, 45273, 45274, 45275, 45277, 45280, 45296, 45298, 45299, 45999